Taylor BT2 Baby Taylor Mahagony
Nombre de cordes: 6 cordes
Détail: Mini Dreadnought, guitare de voyage
Pan coupé: Non
Construction acoustique: Table massive
Coloris: Nature
Finish: Mat
Table: Acajou
Fond/Eclisses: Sapele (Sapelli, alternative à l'acajou)
Manche: Sapele (Sapelli, alternative à l'acajou)
Touche: Ebène (Ebony)
Incrustations touche: Dots
Largeur du sillet: 43 mm
Insert sillet et chevalet: Tusq
Chevalet: Palissandre (Rosewood)
Mécaniques: Chrome
Livré avec: Housse
Diapason: 22,75" / 57,78 cm
plus
moins
En stock
Produit de stock
---
100005370
Numéro d'article:
---
09/2002
Référencé depuis :
---
›
Aperçu avant impression
Vidéo produit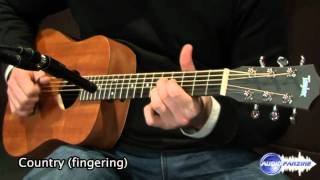 Taylor BT2 Baby Taylor Mahagony · Guitare acoustique
En plus de Martin et Gibson, les guitares Taylor font parties maintenant des plus populaires au monde.

Taylor Baby
Alongside Martin and Gibson, Taylor instruments have become the most respected guitars worldwide. The company builds these wonderful guitars in absolutely high quality and excellent manufacture with an exquisite sound. Well-known bands and musicians like America, Neil Young, Leo Kottke, Dan Crary, Nancy Griffith or Kathy Mattea rely on this perfect sound, the unique pick-ups and unbeatable playability of this noble brand.

In 1974 Bob Taylor, his partner Kurt Listing and about 10 employees founded the company in Lemon Grass, California. In the mean time it has become one of the biggest guitar manufacturers with more than 500 employees. A number of innovations in the guitar building area and new manufacturing methods on the wood-works were developed. Examples are the screwed neck or the unique expression pick-up system.

Taylor has a very interesting and varied product range. Most instruments sold belong to the 300- or 400-series. Once a year, Taylor also builds a special limited edition for the German market only. The construction of this German Limited Edition is based on the ideas of German distributors and is also built in cooperation with the company Headliner and the responsible product manager Thomas Supper. Depending on Tommy´s reference Bob Taylor also takes wood supplies from his private storage in order to develop really exclusive models. These instruments like the Cujo, Koi-Fish, Grey Wale or the Sea Turtle are treasured collector's items.

Taylor has always been the forerunner when it comes to using the most modern techniques for the production of acoustic guitars. Due to computer technology both for the design and for the production the door was opened for reoccurring and constantly rising quality standards and new developments, e.g. the patented neck-body-connection from 1999 and the "Expression" pick-up system which was developed together with the audio legend Rupert Neve in 2003. This way the small company which only produced a small number of guitars a month became one of the leading manufacturers in the high-end area producing more than 250 instruments a day.

A few years ago the company began to launch products to the middle-price market. First of all with ¾-learner-guitars, the so called Baby Taylors, then with the Taylor 15/16 Big Baby, and finally with the grown-up Taylor Dreadnought 110-GB. In the meantime the program consists of 13 different model-lines with more than 60 different models in absolutely impressive quality, as well as a few wonderful limited models.

Artists and bands who play on Taylo0r guitars are: Bryan Adams, Aerosmith, America, Willy Astor, die Beach Boys, Blink-182, Michelle Branch, Jeff Bridges, Cheap Trick, Cranberries, Neil Diamond, Dixie Chicks, Duran Duran, Doyle Dykes, The Edge, U2, Fleetwood Mac, Reinhard Fendrich, Peter Frampton, David Gilmour, Green Day, Billy Idol, Mick Jagger, Don Johnson, Mark Knopfler, Lenny Kravitz, Kenny Loggins, Madonna, Peter Maffay, Maroon 5, Richard Marx, Matchbox 20, Dave Matthews, Mickey Meinert (Juliane Werding, Schiller), Alanis Morissette, Jason Mraz, Chris Norman, Christoph Papendieck (Marianne Rosenberg, Schiller), Brad Pitt, R.E.M, Axl Rose, Richie Sambora, Schürzenjäger, The Scorpions, Bernd Stelter, Styx, Sum 41, Andy Summers, Travis, Shania Twain, Otto Walkes, Robbie Williams, Nancy Wilson, Neil Young and many more.

Guitare acoustique · Taylor BT2 Baby Taylor Mahagony
très bonne guitare de voyage
goldorock le 21.05.2016
Évaluation générale:
Équipement:
Qualité:
Prix/Performance:
J'ai testé à de nombreuses reprises cette baby taylor 2 en acajou et même la bt 2e avec un accordeur qui ne plaisante pas! résultat immédiat. C'est la guitare idéale pour le blues et les accords limpides : aussi bien avec les doigts qu'avec le..
Lire l'avis complet sur Audiofanzine.
La Taylor Swift signature n'existe pas en..
ddn le 22.07.2015
Évaluation générale:
Équipement:
Qualité:
Prix/Performance:
J'ai déjà posté un avis complet du temps où j'avais la version épicéa : http://fr.audiofanzine.com/guitare-acoustique-folk-dreadnou/taylor/baby-taylor-series-baby-taylor/avis/r.125403.html Pour celle là, j'ai un modèle relic - comprenez fort..
Lire l'avis complet sur Audiofanzine.
Avis Taylor Baby Mahogany par LDpicker sur..
LDpicker le 08.01.2010
Évaluation générale:
Équipement:
Qualité:
Prix/Performance:
fabriqué au mexique guitare 3/4 avec manche standart entièrement en acajou Attention c'est une guitare de voyage mais une vraie guitare, pas un jouet ou une guitare enfant UTILISATION Le manche est-il agréable ? manche très agréable, un temps..
Lire l'avis complet sur Audiofanzine.
Ce produit a été évalué avec une moyenne de 4.9 étoiles sur 5. Un total de 3 évaluations ont été laissées. Ces textes ne sont représentatifs de l'opinion de Musik Produktiv mais des impressions de nos clients. 5 évaluations ont été publiées sans texte ou rédigées dans une autre langue.
Oliver Mann
Les clients qui ont observé cet article ont également regardé
Trouver des produits semblables :
· Indiquer tous les articles de la marque
Taylor